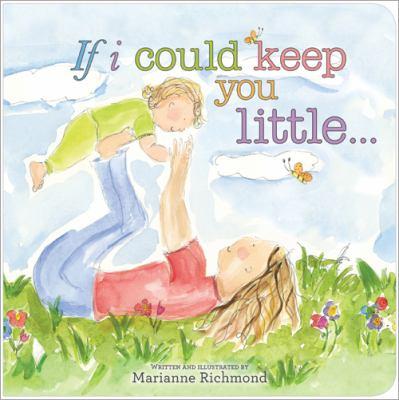 If I Could Keep You Little - Hardcover Book
---
Free shipping with $100 purchase.
Same-Day shipping on all orders placed by 4:30pm EST Mon-Fri, and by 2pm EST on Saturdays.
If I Could Keep You Little - by Marianne Richmond, speaks straight to every parent's heart, exploring the powerful feeling of wanting your child to grow up while savoring every moment. A new favorite, this book showcases Marianne's ability to beautifully illustrate the complex emotions we all have:
If I could keep you little,
I'd keep you close to me.
But then I'd miss you growing 
into who you're meant to be!
Roman & Leo orders ship via USPS or UPS for a flat rate of $4.99, or free with a $100 purchase. Once your order has been received, we aim to ship your package the same business day during our store hours Tuesday - Saturday. Once the package has shipped, you will be provided with a tracking number via email.  All delivery timing is based solely on USPS and UPS and international shipping companies.  Roman & Leo makes no guarantee of timing in terms of when packages will be received once shipped, but Ground Advantage packages are typically received in 1-7 business days, depending on where you are located in relation to our shop (in Indiana).  Priority packages are usually delivered within 1-4 business days.  All international taxes and duties on international deliveries will be the responsibility of the purchaser.
If you aren't completely satisfied with your purchase, or you need a new size, we are happy to assist you with your return. Returns will be accepted from online purchases within 20 days of purchase date for store credit, which will be emailed to you in the form of a digital gift card after your return has been processed. Online orders may be returned in our store as well. See our entire return policy here.