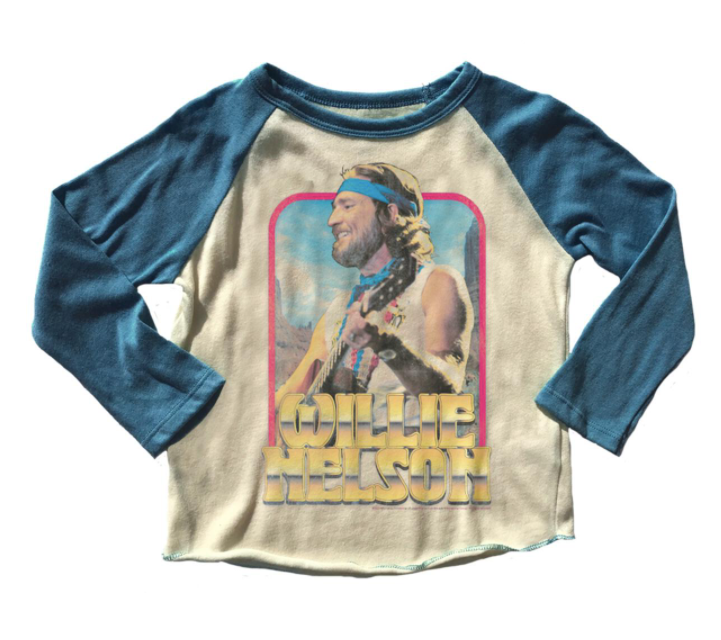 Rowdy Sprout - Willie Nelson LS Raglan in Cream and Teal
---
Free shipping with $100 purchase.
Same-Day shipping on all orders placed by 4:30pm EST Mon-Fri, and by 2pm EST on Saturdays.
We love musical/band tees, and Rowdy Sprout's band tees are the softest around, with officially licensed unique graphics from the bands and their album covers.
Willie Nelson, one of the most recognized artists in Country Music, was one of the main figures of Outlaw Country in the 1960s when he began his career after being discharged from the Air Force.  He's not only a musician writing such hits as On the Road Again, but Willie has acted in over 30 movies, has co-written books, and has been an activist.  His iconic headband and hair make him most recognizable, as an artist who's been putting out music for over 5 decades.  
This tee feature's Rowdy Sprouts's signature buttery-softness. 
Available in sizes 2T, 4T, 6, and 8.  If between sizes, you can typically size down - i.e., if your child typically wears a size 3T, the 2T would be a good fit.  If you'd like longer wear, and your little one is between sizes (a 3T, 5, or 7), you can size up, but the shirt will have a more over-sized fit. 
See all Rowdy Sprout Items
Roman & Leo orders ship via USPS or UPS for a flat rate of $4.99, or free with a $100 purchase. Once your order has been received, we aim to ship your package the same business day during our store hours Tuesday - Saturday. Once the package has shipped, you will be provided with a tracking number via email.  All delivery timing is based solely on USPS and UPS and international shipping companies.  Roman & Leo makes no guarantee of timing in terms of when packages will be received once shipped, but Ground Advantage packages are typically received in 1-7 business days, depending on where you are located in relation to our shop (in Indiana).  Priority packages are usually delivered within 1-4 business days.  All international taxes and duties on international deliveries will be the responsibility of the purchaser.
If you aren't completely satisfied with your purchase, or you need a new size, we are happy to assist you with your return. Returns will be accepted from online purchases within 20 days of purchase date for store credit, which will be emailed to you in the form of a digital gift card after your return has been processed. Online orders may be returned in our store as well. See our entire return policy here.